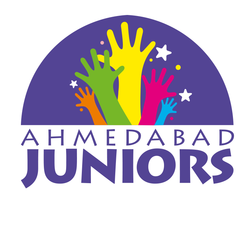 Ahmedabad Juniors
AHMEDABAD JUNIORS is an extension of our 38 years long legacy of nurturing the unique mind of every child. We have shaped, groomed and guided lacs of students. In our journey of shaping young minds, we experienced that young ones are the most curious ones and if given a right environment along with right approach, can lead them to become an explorer, a decision maker, a leader and most importantly a lifelong learner. Hence we needed a platform where we can introduce our customized child centric curriculum instead of stereotyped pattern of learning and give our little ones an exclusive place to explore, evolve and express themselves. AHMEDABAD JUNIORS encourages parents to participate and be apart of their learning process. We strongly believe that kids are like wet cement whatever falls on them, makes an impression. Through our decade old schools, At present we are working with 2500+ prep school students. We keep organizing effective workshops and exclusive parenting programs for young parents, Researched based innovations in child development has been a continuous process, and we are focused to strive vision based expansion in child education. We have published several books for students and Parents which are quite popular. At AHMEDABAD JUNIORS we are determined to give a platform to build their vision for tomorrow.
Website
ahmedabadjuniors.com/
Address
47, Sunrise Tenement , Vastrapur, Ahmedabad, Pincode:380015, Gujarat.
Features
AC Class room, Care Center, Indoor Playground, Library, Outdoor Playground, Toy Room

['1.5 to 2.5 Years', '2.5 hours/day', 'Language Readiness', 'Listening Skills', 'Math Readiness']

['Play school', 'Preschool']
Working hours
9 am to 5 pm

9 am to 5 pm

9 am to 5 pm

9 am to 5 pm

9 am to 5 pm

9 am to 5 pm

Holiday/closed
Related Listings