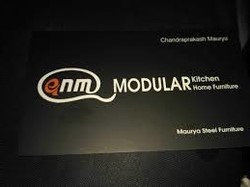 ANM Modular Kitchen & Home Furniture
An excellent company – esteemed and respected by both its customers and employees. Well-known and sought after for its good and sensible products and services. A company whose hallmarks are progress and innovation, where employees enjoy what they do, who have active input in shaping their work, and who take pride in both their company and their product. A value-oriented corporate vision focuses on goals that give employees opportunities to develop their skills and to assume responsibility, and commits us to providing our customers with the best we can achieve. Whatever the material however, we believe that quality is everything - we do not cut any corners or manufacture our products to any price-point. You will probably be able to find cheaper indoor furniture, but you won't find better. Today, ANM is firmly established as one of the most recognised names in quality indoor furniture, with over hundreds of product lines and a national distribution network. Today ANM is one of Mumbai's leading suppliers of furniture for, appartments, offices, public premises and unique working environments.
Address
Shop No.2, Raghuvir Tower , Near Chamunda Circle Sardar Vallabhbhai Patel Road, Borivali West, Mumbai, Pincode:400092, Maharashtra.
Working hours
10 am to 9 pm

10 am to 9 pm

10 am to 9 pm

10 am to 9 pm

10 am to 9 pm

10 am to 9 pm

10 am to 9 pm
Related Listings