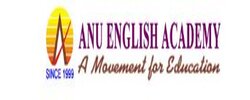 Anu Spoken Hindi & English Language Classes
Anu English Academy founded by Mr. Anu Sharma (1n 1999) who has developed a magic kit to improve handwriting which can improve your English handwriting just in 21 hrs and Hindi handwriting just in 14 hrs. its's surprising but truth. Mr. Sharma has also developed courses for learning English through Hindi medium titled My English Friend & Learning Hindi through English titled My Hindi Friend.
Website
www.wmspokenenglishclasses.com/
Address
No 220/3, Maruthamalai Main Road, Perumal Kovil Bus stop Sundarapuram P.N Pudhur, Opposite Sundaaram Store, Pn Pudur, Chennai, Pincode:641041, Tamil Nadu.
Working hours
8 am to 8 pm

8 am to 8 pm

8 am to 8 pm

8 am to 8 pm

8 am to 8 pm

10 am to 7 pm

Holiday/closed
Related Listings