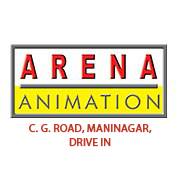 Arena Animation
We are very pleased to introduce our Arena Animation Training Academy. We are a part of the Arena family since nearly the inception of Arena in Ahmedabad. In the year 1996, Arena Animation Ahmedabad centre was started and made a humble beginning with a vision to provide quality education and training in the filed of animation and graphics to the student. We have three branches in Ahmedabad – Arena Animation C. G. Road, Arena Animation Maninagar and Arena Animation, Drive-In Road. Arena Ahmedabad Training Academy that trains youth in animation, Visual Effects (VFX), Graphic Designing, Web Designing & Development, Multimedia, Broadcast, Digital Advertisement and Digital Marketing. Arena Ahmedabad faculties are trained and certified to teach the latest techniques in the animation industry. Students benefit from extensive classroom training & practice their skills in the lab. We seek and deliver solutions that are compatible with the objectives of Arena student's incompatibility with the needs for sustainable development. Arena upholds and maintains the dignity, standing and reputation of the training industry through these measures. We maintain knowledge and skills at levels consistent with development in technology, legislation and management and apply due skills and diligence in the services rendered to our clients and students.
Website
www.arenamultimedia.in/
Address
Near house Beside, Rambagh, Maninagar, Ahmedabad, Pincode:380008, Gujarat.
Working hours
7 am to 9 pm

7 am to 9 pm

7 am to 9 pm

7 am to 9 pm

7 am to 9 pm

7 am to 9 pm

Holiday/closed
Related Listings