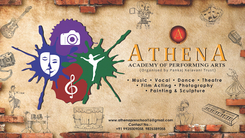 Athena Academy Of Performing Arts & Preschool
Athena Academy is a non-profit private school established in 2010, devoted to educating bright children with dyslexia. The school is located on a large campus in Palo Alto, near Stanford University. We serve grades 1-8. Our approach to teaching dyslexics is based on methods indicated by the latest neuroscience and educational research. We use a blend of teaching methods to accelerate learning for the widest range of dyslexic students. We provide: • 1 to 6 ratio of teachers to students in the elementary classes and 1 to 9 in the middle school classes. • A unique blend of teaching methods: advanced Visual-Spatial methods combined with traditional sequential and phonics-based methods to address the areas of weakness. • Challenging classes in Advanced Science, Social Studies, History, Art, Technology, and Performing Arts to develop the students strengths and gifts. • Teachers with excellent backgrounds and talent who receive in-depth training and ongoing professional development to enable them to provide outstanding education for dyslexic learners. Athena Academy is fully accredited by the Accrediting Commission for Schools, Western Association of Schools and Colleges through 2024.
Address
Athena Academy of Performing Arts, 627, Pankaj Vidyalaya, Gulbai Tekra, Ahmedabad, Pincode:380006, Gujarat.
Features
Arts & Crafts, Dance, Drawing & Painting, Field Trips, Games, Music, Sports, Storytelling, Tuition

All Day

Indoor Play Area, Outdoor Play Area

Co-Ed

English, Hindi, Regional Languages

Play-way Schools

Arts & Crafts, Dance, Drawing & Painting, Field Trips, Games, Music, Sand Play

School Bus, School Van
Working hours
10 am to 1 pm

10 am to 1 pm

10 am to 1 pm

10 am to 1 pm

10 am to 1 pm

10 am to 1 pm

Holiday/closed
Related Listings