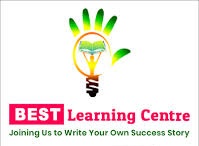 BEST Learning Center
"Best Learning centre" is a well –Known institute founded in 2013 with service motive and passion towards teaching by Prof. I. Syed Noor Mohammed MSc, MPhil to bring next generation government service officers. We started with an aim to help all needy aspirants around India who are seeking to fine tune their preparation to get into the public sector and be a benchmark for other candidates. At "Best learning centre", we have experienced staff who are enriched in knowledge to guide you right in all competitive examinations like UPSC, TNPSC, RRB, Banks, Police, TET and TRB. Therefore, when a candidate thinks about Government examination, with our eminent faculties, we are proud to say that we are the only one and best coaching institute in Chennai to teach top-notch coaching methodology, exact coaching schedule, a rhythm of preparation, evaluation and feedback, and personal mentoring to all our students who prepares for different government examination. We don't believe in just passing the aspirant by providing preparation tips towards their dream; rather believe in providing different teaching strategies like discussions, exam paper analysis, high focus on important areas, more attention on weaker areas, online/ offline tests and more on certain time tested principles. All this leads to understand the basics and encourage our students to question the facts and concepts, rather than just accepting them blindly. Our effort is not to provide route to entering into their dream of Government division; rather set them apart from other competitive aspirants by continuously supporting our students with study materials, library facility and tracking individual candidate performance by giving feedback after every weekly tests. This is further to improve them and help them till the end of their success journey. All this together speaks for our best results and making us one of the best coaching institute and study centre in India.
Address
No 4, Close to Murugan Cinemas, Railway Station Rd, near Ambattur, Alagesan Nagar, Ambattur, Ambattur, Chennai, Pincode:600053, Tamil Nadu.
Working hours
9.30 am to 8 pm

9.30 am to 8 pm

9.30 am to 8 pm

9.30 am to 8 pm

9.30 am to 8 pm

9.30 am to 5.30 pm

9.30 am to 5.30 pm
Related Listings