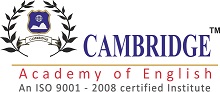 Cambridge Academy Of English
Cambridge Academy of English Approved by Ministry of Education-Karnataka Approved by British Council (Authorized Training Partner) IELTS Cambridge Academy of English is India's No. 1 Language Academy, Founded in 2005. Cambridge Academy of English is a centre for English Language Teaching, Vocational Training skills, Professional Skills and Academic Skills programs. Cambridge Academy of English education expertise is seen as different, challenging and rewarding each year attracting enrolments from thousands of Students over a decade from different part of world such as Saudi Arabia, Yemen, Chad, Mongolia, Sudan, Korea, Oman, Egypt, Oman, Libya, Syria, Turkey, Bahrain, India, China and Iran who wish to maximize their potential on English Learning. The underlying reason for this strong interest is widespread recognition that Cambridge Academy of English education is quality education. Our Academy is equipped with Air Condition, Wifi, and Projector and Audio & Video class room.
Website
cambridgeacademyofenglish.com/
Address
No. 87, 1st & 2nd Floor, Nehru Road, St. Thomas Town, Subramanya Arcade, Ramaiah Layout, Empire Hotel, Hbr Layout, Bangalore, Pincode:560084, Karnataka.
Working hours
9 am to 6.30 pm

9 am to 6.30 pm

9 am to 6.30 pm

9 am to 6.30 pm

9 am to 6.30 pm

9 am to 6.30 pm

9 am to 3 pm
Related Listings