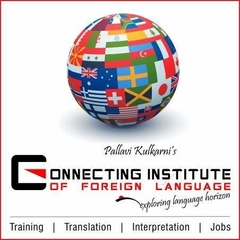 Connecting Institute Of Foreign Language
CONNECTING, NOT JUST COMMUNICATING: THE BEAUTY OF LEARNING A FOREIGN LANGUAGESIf we all look at learning new languages as ways to simply communicate, we are looking at language-learning incorrectly. . . the ability to connect is one that only some people will find as they speak in foreign languages and actually engage and put effort into conversations. During my final week in Costa Rica, I did something that I had not anticipated doing before starting Winterline. I presented my photo essay about the suspended bridges of Monteverde to a room full of local Costa Ricans and my Winterline peers.  I presented my photos, some brief research I had conducted about the bridges, and my opinion on how the bridges contribute holistically to the town; they individually affect the economy, the natural beauty, and tourism of Monteverde in a positive manner. I presented entirely in Spanish. Now, let me go back a little bit… I have been taking Spanish in a classroom for the last six years and I am in love with the language. I find myself listening to "Latin Pop" more often than any other playlist, and I religiously translate words from English to Spanish in my head. There have been a few cases in which I have been able to actually apply my Spanish skills, like when I went to the Dominican Republic for a service project, or when my family and I occasionally go to Mexico on vacation. But it wasn't until my Independent Study Week (ISP) in Monteverde where I actually realized that my Spanish-speaking capabilities can take me further than greeting someone or asking where the bathroom is. We each got the opportunity to choose our own ISPs before heading to Central America. Given my interest in improving my Spanish, I signed up for the "Intensive and Immersive Spanish Course, " which may have been one of my best decisions on Winterline thus far. Over the 5-day course, I learned so much about the language, and more importantly Hispanic culture, by simply speaking in nothing other than Spanish. Evelyn, one of my professors, and I spoke entirely in Spanish for four hours straight on my first day of class. I told her about my family and my health and my best friends at home and my reason for doing Winterline, the list goes on. I told her about so many things that I didn't previously think I was capable of talking about in Spanish. We had genuine conversation in another language and it was beautiful. Unfortunately, many people approach learning a language too concretely and without a "big-picture" mindset. They only see it as another way to communicate, and nothing more. And people who can speak multiple languages are seen as a novelty rather than an opportunity to learn about connecting ("Breaking The Language Barrier") with other people and cultures. I initially approached learning Spanish in a very definitive and concrete way by thinking that it was only taught in a classroom. I've realized after my ISP that learning a language isn't just about the language- it is also about the culture. During my week, I took a cooking class, a dance class, and even went on a tour of the suspended bridges- all things that make up the town of Monteverde and more broadly, Costa Rican and Hispanic culture. I've also come to realize after speaking a significant amount of Spanish, that learning a new language opens doors to connection. I made real relationships with my two professors, Evelyn and Jessie, and connected with each of them on different levels. I learned about their lives and why they're teachers. They even gave me personal advice for my travels to come on Winterline. If we all look at learning new languages as ways to simply communicate, we are looking at language-learning incorrectly. Sure, communication comes as a result of learning a new language, but the ability to connect is one that only some people will find as they speak in foreign languages and actually engage and put effort into conversations. This is where language-learning becomes important, and very fun. But, I digress. Back to my presentation. We were all required to present individually about our ISP weeks; what we did, who we did it with, what we learned, etc. I had been preparing a photo essay for my presentation and knew throughout the whole week that I would be speaking in Spanish, by choice, to a room full of native speakers.  Honestly, I was terrified. I prepared my photos and my PowerPoint presentation and even went to the Monteverde Institute early on the morning of presentations just to practice with Jessie, my other professor. She assured me that my speaking was perfect, yet I stayed anxious throughout the day. Sure enough, it came time to present and I put my whole heart into it. But, my hands were shaky as I pulled up my presentation onto the screen and I could hear my soft voice quiver as I introduced myself and my photo essay. As I moved on throughout the presentation, I stood up taller and spoke louder with more confidence. The words flew out of my mouth without even thinking. "Is this how becoming fluent in Spanish feels like?" I asked myself silently. I completed my presentation and absolutely beamed as my audience members gave me a round of applause and complimented me. I felt connected with the entire room and proud of myself for making an effort to connect. I didn't have to speak in Spanish, and initially I did not want to, but I stepped out of my comfort zone and began to finally see language for what it is: an opportunity to connect, not just to communicate.  .
Address
23, Shriram Society, Near Ganesh Dhyan Mandirf, Warje, Pune, Pincode:411058, Maharashtra.