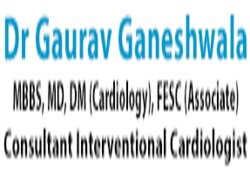 Dr Gaurav Ganeshwala
Dr. Gaurav Ganeshwala is highly specialised in Interventional Cardiology with focus on adult coronary and structural Intervention. Structural interventions include transcatheter aortic valve implantation (TAVI or TAVR), transcatheter mitral valve replacement (TMVR), Transcatheter pulmonary valve replacement (TPVR), transcatheter tricuspid valve replacement (TTVR), mitral clips and other interventions. Coronary expertise includes transradial angiogram & PCI, complex coronary angioplasties and stents, transradial minimally invasive intervention, primary angioplasty in acute heart attack, bifurcation angioplasty & Stenting including Dedicated Bifurcation stents, Post bypass graft Angioplasty, Left main stenting, PTCA involving chronic total occlusions, Use of devices such as the Flextrome, distal protection systems, drug eluting balloons (DEB), atherectomy, rotablation, optical coherence tomography (OCT) imaging, bioresorbable vascular scaffold (BVS), intravascular ultrasound (IVUS) and fractional flow reserve (FFR).
Website
www.heartspecialistpune.com/
Address
Ruby Hall Clinic, Ground Floor, OPD 7, Near Pooja Communication, Sangamvadi, Pune, Pincode:411001, Maharashtra.