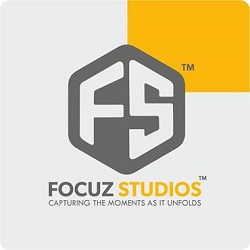 Focus Studio, Arunachalam Road
I founded Focuz Studios in the year 2010. I was the only person in my company when I started it. I was driving my own single army - from booking to shooting to editing to printing - I handled all the operations all alone when I started. It has been a journey of a lot of hard work, mental and physical labor is not as easy as it sounds but when passion is an ingredient in this mixture, everything else gets blinded and all you reap is joy. The fantastic part about being a single founder of the company was that I got to learn about everything related to my field of work. I was my own mentor, my own student and everything in between. Well, I had of course learnt cinematography formally, but putting that to practical use is something else and I learnt the nuances of my field - from technique to marketing all in a quick span of my time. I'm very grateful to my initial clients for trusting me with their wedding moments. Without them, this wouldn't have been possible. Eight years down, it's 2018 and Focuz Studios is a team of 25 people, who have trusted me and grown with me. As a team we have captured over 400 weddings, travelled across the world to shoot wedding memories and experimented so much in terms of content, packaging and clientele as well. I believe in continuous learning and quality output, those are the benchmarks that drive me and I set the same standard for people in my team as well. It's about passion than the business. I like it because it helps me capture moments one cannot reclaim in reality. I'm the creator of my own picture, I like to translate the memory of those moments on print and I am constantly looking out for such minute emotions in people's faces, I must say I have built a strong foundation of observing skills over a period of time too. I love story telling. I capture moment after moment after moment and try to weave a story - one frame at a time.
Website
www.focuzstudios.com/
Address
No 187/36, Pushpa Colony, Arunachalam Road, Saligramam, Chennai, Pincode:600094, Tamil Nadu.
Features
Function Photography, Portfolio Photo Shoot, Video Shooting, Wedding Photography
Working hours
9 am to 9 pm

9 am to 9 pm

9 am to 9 pm

9 am to 9 pm

9 am to 9 pm

9 am to 9 pm

9 am to 9 pm
Related Listings