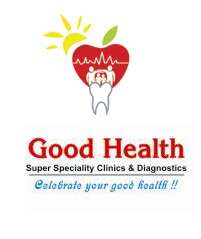 Good Health Clinics
Good Health Clinic is Complete Family Health Care clinic with Heart , Diabetes And Dental Clinic along with diagnostic facilities like , ECG , Stress Test, 2D Echo , Stress Echo , Ambulatory Blood Pressure, Holter Monitor, Pathology , Portable X-ray, Dietician, Physiotherapist, Psychiatrist . Dental clinic Facilities Single sitting Root Canal Treatment, Digital X-ray, Dental Implants, Implant Dentures, Cosmetic Fillings, Smile designing, Orthodontic Treatment, Gum Treatment, Children dentist, Dentures, Tooth Removal, Wisdom tooth Removal, Ceramic Crowns and Bridges, Composite and Ceramic Laminates and veneers. Preventive dentistry includes Fluoride Treatment and pit and fissure sealants. Dr. Manoj Ram Gerela is a distinguished Physician in clinical practise, since 2001. He completed his post-graduation in Cardiology & Diabetology from the prestigious Asian Heart Institute which is one of India's highly accrebdited hospitals and is known for providing world-class cardiac care in India. Dr. Gerela is attached as a panel consultant at Asian Heart Institute and as a panelist doctor in various local associations. He can also be consulted at Good Health Super Speciality Clinic on weekdays. Dr. Gerela holds the apex positin. With years of experience in the medical profession, Dr. Manoj Gerela (Good Health Clinic & Diagnostics) at Mulund East, Mumbai is one of the most established cardiologists that the city has. The doctor has immense experience in this field. . The clinic is located in Mulund East, a friendly neighbourhood in the city and can be spotted Near Mulund Gymkhana. The location is such that it allows ease of commuting to the locals to and from any part of the city. Adding to the comfort of the citizens, there is an endless availability of public modes of transportation in this area which makes travelling at odd hours convenient. With expertise in the field and years of experience, this medical practitioner has made valuable contribution to the society by means of proficient medical services. Dr. Manoj Gerela (Good Health Clinic & Diagnostics) at Mulund East is a leading cardiologist who is visited by a large number of patients suffering from heart conditions. In addition to dealing with conditions like congenital heart defects, coronary artery diseases, heart failures, valvular heart diseases and electrophysiology, the doctor also offers diagnosis and treatment of certain conditions related to some parts of the circulatory system. Some of the common types of heart conditions that the doctor treats include rheumatic heart disease, hypertensive heart disease, ischemic heart disease, cerebrovascular disease and inflammatory heart disease. The doctor has a polite approach towards patients and is known for the personal care and attention offered to every single patient. Patients can get in touch with the medical practitioner on +(91)-22-21633381, 25635381.
Website
www.goodhealthsuperspeciality.in/
Address
Shop No.3 vikram apartments, Tata colony, Opposite VLCC Institute, Mulund East, Mumbai, Pincode:400081, Maharashtra.