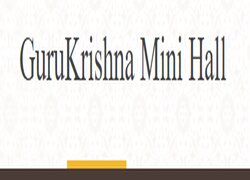 Guru Krishna Mini Hall
Thiru V. Guruswamy and Thirumathi G. Krishnavani, the lovable and respectable couple led a commendable life over 80 years in Gandhipuram, Coimbatore, India. Thiru V. Guruswamy graduated from Madras University and served as Accounts Officer at Tamil Nadu Electricity Board. He was acclaimed for his simplicity, kindness, clean habits and a strong commitment in serving the society. As a President of Gavara Inna Munnetra Sangam at Coimbatore, for many years he infused a new kind of cooperation focused upliftment of the community. Thirumathi G. Krishnavani with her modern thoughts and traditional habits brought the stability in the family and imbibed the positive mental attitude and good values in life to their children. In fond remembrance of 80th Birthday (Sathabhishekam) the marriage of Thiru V. Guruswamy and Thirumathi G. Krishnavani, the Guru Krishna Marriage Hall was established in the year 2016 by Dr G. Prabhakaran PhD and Mrs P. Vijayalakshmi MSc. , to uphold the family tradition in serving the society.
Website
gurukrishnahall.in/
Address
Old No. 106, New No. 735, 7th Street Extension, Near Rathinapuri Bridge , Gandhipuram, Coimbatore, Pincode:641012, Tamil Nadu.
Features
Working hours
9.30 am to 7.30 pm

9.30 am to 7.30 pm

9.30 am to 7.30 pm

9.30 am to 7.30 pm

9.30 am to 7.30 pm

9.30 am to 7.30 pm

Holiday/closed
Related Listings