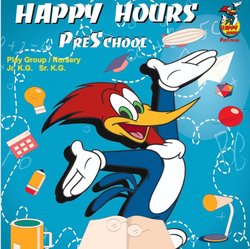 Happpy Hours Preschool
Quoting Mrs Daphne Paulose - "My 1st batch of students have ventured into various fields such as Aviation, Engineering, Medicine, Charter Accountancy, IT etc . . . And still keep in touch with us. Some of their children now come to our preschool. Wonderful !! to see the 2nd generation back in our preschool. Nothing can be more rewarding for a teacher than this".  The teachers at Happy Hours Integrated preschool are well trained. They are provided with regular in service training to update their knowledge and skills with the latest trends in preschool education. All of them mingle freely with the children, are patient and caring, and promote the all round development of the children.
Address
6, Astha Bunglows, Nikol, Ahmedabad, Pincode:380024, Gujarat.
Features
Arts & Crafts, Dance, Drawing & Painting, Field Trips, Games, Music, Sports, Storytelling, Tuition

All Day

Indoor Play Area, Outdoor Play Area

Co-Ed

English, Hindi, Regional Languages

Play-way Schools

Arts & Crafts, Dance, Drawing & Painting, Field Trips, Games, Music, Sand Play

School Bus, School Van
Working hours
9 am to 12.30 pm

9 am to 12.30 pm

9 am to 12.30 pm

9 am to 12.30 pm

9 am to 12.30 pm

9 am to 12 pm

Holiday/closed
Related Listings