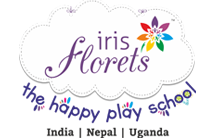 Iris Florets
As new discoveries and cutting-edge technologies dawn the new-age, the way children learn and play has undergone a sea of change. Children today, are weighed down by the burden of expectations and the pressure of performance right from a very young age. In the process, they miss out on the most valuable ingredient of childhood – Happiness. We at IRIS, have set out to create an atmosphere of happiness and security – a place where children are respected and recognized for who they are. Furthermore, IRIS is a creatively stimulating and nurturing place of excellence where the children's growth is self-propelled and they can be themselves, as they revel in the joy of childhood. " THE SCHOOL TODAY, IS RECOGNIZED AS ONE OF THE LEADING PRE-SCHOOL BRANDS IN INDIA. " Revel in the joy of childhoodIris Educare Limited is proud to introduce iris florets, a play school designed around the child. An earnest effort has been made to create a world of happiness not just for the children, but also their parents. We believe, even though children are performing well in academics and sports at school, their creativity, thinking capabilities, independence and leadership qualities are not developing the way they should. Hence, we felt there is a need for a change in the education system to tap and harness these four main qualities in children. Thus, iris florets was born. "A happy space where every child enters the school with a smile and walks out with giggles andchuckles. ".
Website
www.irisflorets.com/
Address
16-11-511-D-232, Shalivahana Nagar, Sarita Arcade, SBI Colony, Dilsukhnagar, Hyderabad, Dilsukhnagar, Hyderabad, Pincode:500036, Telangana.
Features
Arts & Crafts, Dance, Drawing & Painting, Field Trips, Games, Music, Sports, Storytelling, Tuition

All Day

Indoor Play Area, Outdoor Play Area

Co-Ed

English, Hindi, Regional Languages

Play-way Schools

Arts & Crafts, Dance, Drawing & Painting, Field Trips, Games, Music, Sand Play

School Bus, School Van
Working hours
9.30 am to 1.30 pm

9.30 am to 1.30 pm

9.30 am to 1.30 pm

9.30 am to 1.30 pm

9.30 am to 1.30 pm

9.30 am to 1.30 pm

Holiday/closed
Related Listings