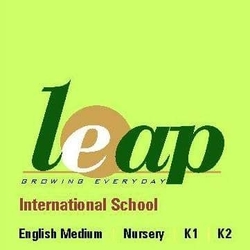 Leap International School
We are a School that strives to impart a high quality education through English Medium. Literary and cultural activities are blended along with academic career, while a strong emphasis is also placed on discipline. We adopt high methodology for student's participation in each and every activity of the school.
Address
Aditya Jeevan Twin Road , Nikol, Ahmedabad, Pincode:380024, Gujarat.
Features
Arts & Crafts, Dance, Drawing & Painting, Field Trips, Games, Music, Sports, Storytelling, Tuition

All Day

Indoor Play Area, Outdoor Play Area

Co-Ed

English, Hindi, Regional Languages

Play-way Schools

Arts & Crafts, Dance, Drawing & Painting, Field Trips, Games, Music, Sand Play

School Bus, School Van
Working hours
9.30 am to 2.30 pm

9.30 am to 2.30 pm

9.30 am to 2.30 pm

9.30 am to 2.30 pm

9.30 am to 2.30 pm

Holiday/closed

Holiday/closed
Related Listings