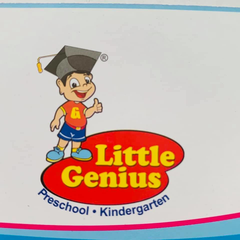 Little Genius
Little Genius Preschool has been in operation since 2016 successfully preparing children for entrance into Kindergarten by helping them grow spiritually, intellectually, emotionally, socially and physically. We strive to promote the individuality in each child and to enhance each child's self esteem. It is important, therefore that the children be given the opportunity to develop within a concerned and loving environment. The teachers serve as facilitators of learning and provide a wide array of experiences. It is our mission to provide a fully integrated pre school program designed to foster the child's social and emotional growth, as well as physical and mental development. In additional a sequential learning curriculam prepares each child for a academics in kindergarten and elementary school. To create a society of progressive thinking individuals who will contribute to the intellectual development of the global community by initiating positive changes in the social fabric, in the technology and administration of our lives and business, and in the approaches employed to realize individual and collective aspiration.
Website
littlegeniuspreschool.in/
Address
Bunglow No.1, Urj-11, Sakar School Lane, New C G Road, Chandkheda, Ahmedabad, Pincode:382424, Gujarat.
Features
AC Class room, Care Center, Indoor Playground, Outdoor Playground, Toy Room

[]

['Preschool']
Working hours
9 am to 1 pm

9 am to 1 pm

9 am to 1 pm

9 am to 1 pm

9 am to 1 pm

9 am to 1 pm

Holiday/closed
Related Listings