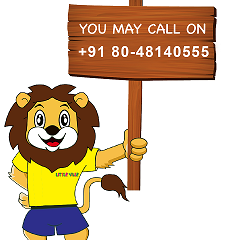 Little Ville Preschool
A child is a mixture of excitement, energy, fun and inquisitiveness. With every step a child seeks to unravel the numerous mysteries that surround its innocent world. Every innocent question has a thought behind it. The curious little mind of the child is like a clean slate that is ready to absorb the answers. Little Ville brings to a child the world of knowledge in a fun-filled manner. We kindle a child's desire to learn and present the environment where a child can climb the steps of knowledge with enthusiasm. With more than 30 years of collective experience in the field of child education and K 12 Education, we thoughtfully conceptualized this futuristic Preschool. Little Ville is the outcome of extensive research that explored various curriculums and accumulated their best aspects to present to the kids with a unique world of fun and learning. Every child is unique and we take care to recognize the ability of each child so that they can unleash their full potential. The approach followed at Little Ville is aimed towards the overall development of the child through interactive and interesting ways. We groom the little wonders to think, imagine, explore, experience and learn to take sure steps towards a bright future.
Website
www.littleville.co.in/
Address
Thiru Nagar 2Nd Ln Kallimadai Coimbatore, Kallimadai, Coimbatore, Pincode:641005, Tamil Nadu.
Features
Arts & Crafts, Chess, Dance, Drawing & Painting, Games, Music, Sports, Storytelling, Tuition

After School, Before School

Before & After School Care, Indoor Play Area, Library, Multi-purpose Hall, Outdoor Play Area

Co-Ed

English, Regional Languages

Play-way Schools

Arts & Crafts, Dance, Drawing & Painting, Games, Music

www.littlevelli.co.in

School Bus, School Van
Working hours
8 am to 6 pm

8 am to 6 pm

8 am to 6 pm

8 am to 6 pm

8 am to 6 pm

8 am to 2 pm

Holiday/closed
Related Listings