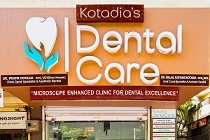 My Dental Care
My Dental Care was founded by Mr. Deepak Kulkarni in 1998. The clinic is guided by the Mother Teresa Memorial Charitable Dental hospital & Research Center. We treat adults, kids, seniors, people with special needs, and people afraid of the dentist. We treat the whole family!We are providing several of dental services such as ceramic fix teeth, advanced dentistry in CAD CAM, Root Canal Treatment, Implant Surgery, Gum treatment, Preventive Treatments, Laser Assisted Dentistry, Ceramic caps, Orthodontics, Replacing Teeth (caps). Your wellness is our primary concern, but we understand you also want your smile to look great. The entire team at 'My Dental Care' is dedicated to helping people and building lasting relationships, going beyond solving teeth issues. Whether you want natural-looking fillings, whiter teeth, beautiful options to replace a missing or damaged tooth, or a same-day appointment when your tooth hurts, you can count on us.
Website
www.nandadentalcare.com
Address
Nagar Road, Kanur Patar Patsansta, Near Adesh Printing, Near Mahanagar Bank, Chandan Nagar, Pune, Pincode:411014, Maharashtra.
Working hours
10 am to 1 pm - 5 pm to 8 pm

10 am to 1 pm - 5 pm to 8 pm

10 am to 1 pm - 5 pm to 8 pm

10 am to 1 pm - 5 pm to 8 pm

10 am to 1 pm - 5 pm to 8 pm

10 am to 1 pm - 5 pm to 8 pm

Holiday/closed
Related Listings