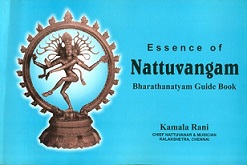 Nattuvangam Dance Classes
This is an instrument which is used very particularly for Dance. It co-ordinates the song and the movements of the dancers and helps the performer on the rhythm side. The dance performer can effectively be a good choreographer when he/she knows Nattuvangam. It is an essential art that a dancer should know to become a GURU or a skilled performer. It is a multitasking art as playing the nattuvangam and reciting the 'Jathis'(rhythmical patterns in dance) are done simultaneously. Thus this art requires mathematical knowledge. The art of nattuvangam constitute minute rhythm calculations that are relevant to the rhythmical calculations of 'Jathis' and 'Adavus'.
Website
nattuvangamclasses.com/
Address
No. 12, Sakthi Nagar, 2nd Street, Abith Nagar, Thiruvalluvar Puram, -, Choolaimedu, Chennai, Pincode:600094, Tamil Nadu.
Working hours
6 pm to 9 pm

6 pm to 9 pm

6 pm to 9 pm

6 pm to 9 pm

6 pm to 9 pm

6 pm to 9 pm

9 am to 1 pm
Related Listings