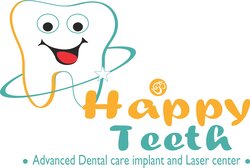 Om Happy Teeth Advanced Dental Care
Om Happy Teeth Dental Clinic in Pimple Saudagar Pune provides world-class dental treatment with best team of dentists having more than 20 years of work experience. We try to complete the treatment in a mean time and deliver the best treatment to our patients. You need to take care of your oral health, by regular brushing and flossing, also you need to take good amount of nutrition followed by doctors. Om Happy Teeth has the best dentist in Pimple Saudagar Pune. We suggest the people who are suffering from any kind of dental problems, first of all please visit to detnal clinic.
Website
www.omhappyteeth.com/
Address
No. 202, Royal Avenue, Shivar Chowk , Above Pradeep Sweet, Pimple Saudagar, Pune, Pincode:411027, Maharashtra.
Working hours
10 am to 2 pm - 5 pm to 9 pm

10 am to 2 pm - 5 pm to 9 pm

10 am to 2 pm - 5 pm to 9 pm

10 am to 2 pm - 5 pm to 9 pm

10 am to 2 pm - 5 pm to 9 pm

10 am to 2 pm - 5 pm to 9 pm

Holiday/closed
Related Listings