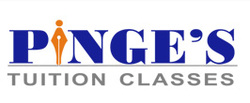 Pinges Tution Classes
Pinge's started way back in 1945, with 29 students of Basic English course at Balmohan Vidya Mandir School, Dadar Mumbai. The late Shri M. M. Pinge was not only a missionary, but also a great visionary. He started classes for Basic English, when very few had understood its importance. Again when he realized the necessity of assisting the School and College students to improve their careers, he started Classes for them and later included the SNDT university candidates, and courses for various competitive examinations. Thus, he rendered yeomen services to the needy segment of the student community. Hundreds of students, who have been coached in Pinge's Tuition Classes, have never lost sight of the high ideals and interests. This is one of the reasons, why Pinge's Tuition Classes is looked upon as the pole star in the field of education. In addition, late Shri. M. M. Pinge extended his helping hand to the less privileged and saw to it that they found a place in the Society.
Website
pingestuitionclasses.com/
Address
TV Chidambaran Marg, Air Force Quarters, Jay Bharat Mata Nagar, Behind H. P. Petrol Pump,, Sion, Mumbai, Pincode:400022, Maharashtra.
Working hours
7 am to 9 pm

7 am to 9 pm

7 am to 9 pm

7 am to 9 pm

7 am to 9 pm

7 am to 9 pm

7 am to 9 pm
Related Listings