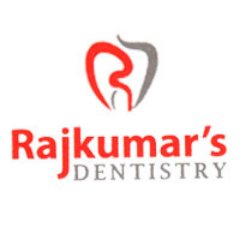 Rajkumar Dentistry
Rajkumar's Dentistry is known as one of the most affordable and top Dental clinic in Coimbatore.  It was founded by Dr. Rajkumar Ratnasamy in 1994 and successfully completed its 25 years by providing best dental services to its patients.  Rajkumar's Dentistry in Coimbatore has created a strong base in Dental field by offering all best possible dental treatment services with the commitment of exceeding patient's expectations level with affordable cost to reach all the people. We help patients to overcome their fear of going to a dentist, which can reduce the delay in seeking the necessary dental treatments needed to maintain healthy teeth and a beautiful smile. Rajkumar's Dentistry is unique in terms of the best of ambience, hi end technologies and world-class treatments. Rajkumar's Dentistry is a dental clinic in Ramanathapuram, Coimbatore with a major emphasis on individual and professional approach to each and every patient. We provide the latest in advanced dental technology that increases the scope of dental care while offering comfort and painless procedures for patients. Rajkumar's Dentistry has the professional Dentist in Coimbatore and properly following all the disinfection and sterilization procedures needed for infection control such as gloves, masks and utensils. We care for our patient and hence prevent the transmission of other infectious diseases.
Website
www.rajkumarsdentistry.in/
Address
No.1680/18, Trichy Road, Next To Krishna Sweet, Ramanathapuram, Coimbatore, Pincode:641045, Tamil Nadu.
Working hours
10 am to 9 pm - 1 pm to 5 pm

10 am to 9 pm - 1 pm to 5 pm

10 am to 9 pm - 1 pm to 5 pm

10 am to 9 pm - 1 pm to 5 pm

10 am to 9 pm - 1 pm to 5 pm

10 am to 9 pm - 1 pm to 5 pm

Holiday/closed
Related Listings