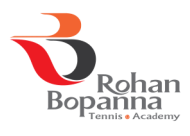 Rohan Bopanna Tennis Academy, Venkatala Village
Established in March 2016, the Rohan Bopanna Tennis Academy (RBTA) offers young children in India access to a global standard tennis coaching program. At RBTA the focus is on encouraging all round sports development of young athletes - with an emphasis on developing overall sports fitness, as well as honing tennis skills. RBTA offers 4 levels of coaching programs to children between 4 and 25 years. The unique curriculum has been planned by Rohan in conjunction with a team of acclaimed coaches. The program includes active and regular involvement from Rohan, where he imparts invaluable mentorship and tips. The day to day program at RBTA is managed by a team of experienced coaching staff, personally selected by Rohan. RBTA has 2 centres - located at Yelahanka and at The Sports School, Kanakapura. ​The Junior and Development programs operate on a 3-acre property in Yelahanka, on the outskirts of Bangalore. This centre has four high- quality, clay tennis courts. The High Performance program, along with intermediate and beginner programs, are conducted at The Sports School campus located in Kanakapura. The facility offers 7 hard-courts with floodlights, a gymnasium, hostel facilities and education at a school run by the Jain Group of Institutions - all located within the same campus. The facility is an integrated centre of excellence designed to create the perfect training ground for champions of tomorrow. ​.
Website
www.rohanbopannatennis.com/
Address
No. 53, Canadian International School Road,Chowdeshwari Layout, Venkatala Village, Yelahanka, Bangalore, Pincode:560064, Karnataka.
Working hours
Holiday/closed

7.30 am to 8.30 pm

7.30 am to 8.30 pm

7.30 am to 8.30 pm

7.30 am to 8.30 pm

7.30 am to 8.30 pm

7.30 am to 8.30 pm
Related Listings