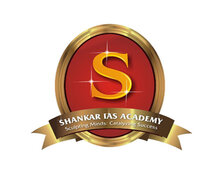 Shankars Academy
SHANKAR IAS ACADEMY , one of the best institutions in India coaching and mentoring thousands of Civil Service aspirants was founded in 2004. The academy which was nothing but a gleam in the eye of Mr. Shankar. D in 2004, a post graduate in agriculture (also an aspirant who qualified for interview twice), has evolved over the years to the extent of successfully helping 1000+ candidates realise their dream of becoming a bureaucrat and guiding thousands of others to realise their potential. We take pride in having successfully contributed to nation building albeit, in a small way.
Website
www.shankariasacademy.com/
Address
38-B, Palandi, Mangali Aman Kovil St, Balakrishnapuram, Adambakkam, Adambakkam, Chennai, Pincode:600088, Tamil Nadu.
Working hours
8 am to 6 pm

8 am to 6 pm

8 am to 6 pm

8 am to 6 pm

8 am to 6 pm

8 am to 6 pm

8.30 pm to 6 pm
Related Listings