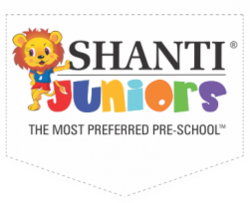 Shanti Juniors Preschool
We at Shanti Juniors believe in celebrating childhood with the same intensity and love as you do for your child. A 2nd home of your child, where he/she learns the external world through our own teaching methodology. Shanti Juniors Pre-School Chain believes in balancing Fun & Learn from the very first stage of early education through our programs of Todd Care, Nursery, Jr. Kg&Sr. Kg. "Shanti Juniors" is a chain of play school addressing the educational needs of early childhood years by following developmentally appropriate practices. We at "Shanti Juniors" celebrate childhood, through the unique blend of international approaches amalgamated with Indian culture. Shanti Juniors brings a perfect balance across the country with a tint of regional touch so that a child connects its surroundings and local environment instantly which makes it the best preschool for your child. This way, the child gets amused and happy to express out what he/she has learnt in school. That is why we say, India celebrates childhood at Shanti Juniors Shanti Juniors provides age appropriate early childhood care and education programs integrated with technology in a joyful environment to lay a strong foundation for our happy & righteous children to be responsible citizens of the world.
Website
www.shantijuniors.com/
Address
Near Sampad Residency, Bhat Motera Link Road, Motera, Opp Dev Prayag, Motera, Ahmedabad, Pincode:382424, Gujarat.
Features
Arts & Crafts, Chess, Dance, Drawing & Painting, Games, Music, Sports, Storytelling, Tuition

After School, Before School

Before & After School Care, Indoor Play Area, Library, Multi-purpose Hall, Outdoor Play Area

Co-Ed

English, Regional Languages

Play-way Schools

Arts & Crafts, Dance, Drawing & Painting, Games, Music

info@shantijuniors.com

www.shantijuniors.com

School Bus, School Van
Working hours
8.30 am to 1.30 pm

8.30 am to 1.30 pm

8.30 am to 1.30 pm

8.30 am to 1.30 pm

8.30 am to 1.30 pm

8.30 am to 1.30 pm

Holiday/closed
Related Listings