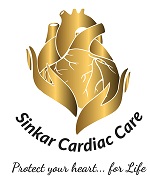 Sinkar Cardiac Care
Welcome to official website of Sinkar Cardiac Care which is managed by Leading cardiologist in Pune, Dr Amit. Sinkar Respected, Compassionate and Energetic Young GenX who believes in creating awareness about healthy lifestyle and prevention of diseases rather than mere focusing on procedures. Our team and supportive staff believes in providing care which is personalized to each patient's unique needs. Sinkar Cardiac care specialize in providing quality services in Cardiology in Shivajingar , Pune. Highly skilled, experienced and specialist by training Dr. Amit Sinkar strives to offer best & consistent patient care services. Explore our site to know more about our facilities, get reliable health information & connect with us instantly. You can ask us health questions or consult with us remotely & securely. We look forward to meet, inform and serve you dedicatedly in your health & well-being needs.
Website
www.sinkarcardiaccare.in/
Address
Office No. 203, Kalpavishwa, Ghole, Ramchandra Sabha Mandap , Next To ICICI Bank, Shivaji Nagar, Pune, Pincode:411005, Maharashtra.