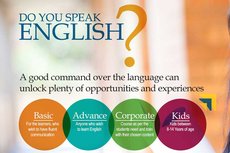 Spoken English India
In fact India is one of those few countries that have two languages in place of one used for executing the central administrative function of the government. There are 22 official regional languages as well but none of them can work as a widespread link language the way Hindi and English are doing. Almost everyone, at least in the urban centers in India has a workable knowledge of Hindi. But many parts of India including South Indian states offer a stiff resistance to Hindi becoming the sole national language. It has also made English stay in official functioning as a link language joining the length and breadth of this immensely diverse country as far as its linguistic culture is concerned.
Website
spokenenglishindia.com/
Address
3030, 13th Main Road, Sai Darshan Marg, HAL 2nd Stage, ., Indiranagar, Bangalore, Pincode:560008, Karnataka.