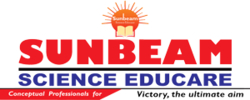 Sunbeam Group Tuitions
Sunbeam Science Educare was founded on 2013, for making true our dream of giving scholars and well trained BRAINs to our nation where they can lead us in various field of as their career and future of our nation. Here, in Sunbeam Group Tuitions we find out the weak as well as strong points of the students so that we can enhance and modify their knowledge and way of learning. We are continuously working on the students psychology to make them a perfect student not just mean by scoring, here we take care of real time studies, so that what they learnt can answer at any time and thats called the true study. We have module trough which one passes and comes as a Shaped, Sharp & Bright Diamond.
Website
www.sunbeamcoaching.com/
Address
Mahakali Caves Road, Mahakali, Near Holy Spirit Hospital, Andheri East, Mumbai, Pincode:400093, Maharashtra.
Working hours
8 am to 8 pm

8 am to 8 pm

8 am to 8 pm

8 am to 8 pm

8 am to 8 pm

8 am to 8 pm

8 am to 8 pm
Related Listings