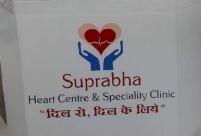 Suprabha Heart Care Center
Dr. Prasad Prabhakar Shah is a renowned interventional cardiologist and electrophysiologist. He has been trained in all facets of interventional cardiology from the best institutions in India and abroad. With an experience of around 22 years in the field of cardiology he has managed and performed all the interventions of heart successfully on thousands of patients in India and abroad. He has opened a cardiology centre of excellence at centre point, Mitra Mandal Chowk which is near Swargate and Sarasbaug at Pune. At Suprabha Heart centre apart from his expertise the patient can get all the non-invasive investigations such as ECG, Colour Doppler of the heart, Stress Test, Ambulatory Blood Pressure monitoring, Holter monitoring for rhythm and rate abnormalities, Diet counselling, and Cardiac rehabilitation done under his supervision all under one roof .
Website
www.drprasadshah.com/
Address
Centre Point, Second Floor, Shop No. 208, 209, 210, Mitramandal Chowk, Near Laxmi Narayan Theater, Parvati Paytha, Pune, Pincode:411009, Maharashtra.