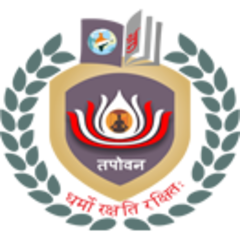 Tapovan Sanskar Pith
It's a sacred place situated at the outskirts of city on Koba Highway which is surrounded by green trees and where silence and solitude move hand in hand. In this holy ambience spirituality blooms in fullness and humanity blossoms splendidly in its completeness. It looks like a replica of heaven where the presence of the Almighty God can be experienced at every step wherever we move. The foundation of this spiritual edifice had been laid down by Param Pujya Panyas Pravar Shri Chandrashekhar Vijayji Maharajsaheb in the year 1983 in Navsari and in the year 2008 its offshoot viz. Tapovan Vatsalyadham was estabalished which is a Day Boarding School for boys. This well-set academic complex is managed by Jivan Jagruti Trust with unflinching devotion and firm commitment. H. H. Shri Chandrashekhar Vijayji Maharajsaheb was undoubtedly the chief source of inspiration in establishing this academic complex. He is a great master, guide and Guru to shape the future of aspirants. Since time immemorial the holistic fragrance of Jain Religion is sanctifying the minds of God-Seekers and saints of yore had propagated its philosophy very lucidly in each nook and corner of this world. The governing body of Tapovan Sanskar Peeth is following the tradition set by our monks and dedicated their lives to lift up the glory of this religion for the betterment and wellbeing of our society. They have sustained the values of life and now encourage the academicians to impart the value-based education to carve out the career of new generation as they are the leaders of tomorrow's world and in future the reins of the nation will be in their hands. The Mission of this academic-cum-spiritual set up is 'to turn out sensitive, understanding, focused, goal-oriented and service-oriented citizens with certain core values implanted in them. ' With an above-mentioned lofty vision the school is having an aesthetic vision as well such as 'To turn the school into a vibrant centre, a beehive of multifarious activities which aim at igniting minds and learning of life-skills. The founder and the upper echelons of this establishment believe that each and every child is unique with a ray of academic inquisitiveness which should be widened by the flash of knowledge. The institution doesn't want to produce the living robots but it strives to make the new generation more sensible who can use their head and heart in a balanced proportion. As per our belief, life without values, love, compassion, honesty, truthfulness etc, is untamed and wild. We want to inculcate these moral values and ethical perfection in the minds of knowledge-seekers. Anyone who sticks to these values will achieve peace and happiness without a shadow of doubt.
Website
tapovansanskarpith.org/
Address
Amiyapur, Taluka Chandkheda , Chandkheda, Ahmedabad, Pincode:382424, Gujarat.
Features
Arts & Crafts, Dance, Drawing & Painting, Field Trips, Games, Music, Sports, Storytelling, Tuition

All Day

Indoor Play Area, Outdoor Play Area

Co-Ed

English, Hindi, Regional Languages

Play-way Schools

Arts & Crafts, Dance, Drawing & Painting, Field Trips, Games, Music, Sand Play

School Bus, School Van
Working hours
9 am to 1 pm

9 am to 1 pm

9 am to 1 pm

9 am to 1 pm

9 am to 1 pm

9 am to 1 pm

Holiday/closed
Related Listings