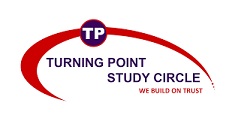 Turning Point Study Circle
To guarantee solid and extensive Bank training for all the significant Bank exams, Turning Point offers a variety of programs covering the most urgent piece of the determination procedure. We take into account countless with fluctuating prerequisites, which reflects in our scope of programs. We provides a comprehensive coaching for competitive exams such as SSC Exams, SSC CGL Exams, RRB Exams, IBPS Exams, IBPS PO Exams, IBPS SO Exams, Specialist Offiers Exams, Clerk Exams, SBI PO Exams, Insurance Exams, AO Exams, LIC Exams in chennai and we are on of the best bank exam coaching centre chennai and bank exam coaching institute in chennai. We have a great team of faculties for all subject to walk you throughout your journey with positive attitude and confidence. Beyond that our best thing is upto date study materials and amazing problem cracking techniques. we provide full gratification to all students and our personal attention make them unique. Enlist for your favored program and have the most obvious opportunity with regards to breaking the bank enrollment exams. Turning Point Study Circle is one of the best bank exam coahing institute in chennai offers a extensive classroom coaching program to prepare students for Bank Exam, SBI Exam, SSC Exam, SSC CGL Exam, IBPS Exam, IBPS SO Exam, IBPS PO Exam, LIC Exam, Clerk Exam, Specialist officer Exam, Insurance Exam in chennai.
Website
www.turningpointstudycircle.com/
Address
No. 82, 2nd Floor, Velachery Railway Station Road, -, Velachery, Chennai, Pincode:600042, Tamil Nadu.
Working hours
8.30 am to 8 pm

8.30 am to 8 pm

8.30 am to 8 pm

8.30 am to 8 pm

8.30 am to 8 pm

8.30 am to 8 pm

8.30 am to 4.30 pm
Related Listings