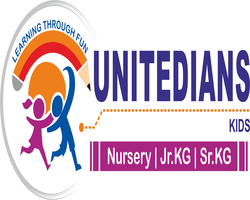 United Kids
We Provide a rich learning environment with curriculum that are developmentally appropriate to the specific ages in each classroom. We have a flexible day routine which allows children to advance at their own pace. We strongly believe that learning happens through play. Learning and exploring are hands-on and facilitated through interest areas. Our syllabus is designed to enhance children's development in the following areas: creativity, self-expression.
Website
www.unitedianskids.com/
Address
1, Rajdhani Tenament, Vastral, Ahmedabad, Pincode:382418, Gujarat.
Features
Arts & Crafts, Dance, Drawing & Painting, Field Trips, Games, Music, Sports, Storytelling, Tuition

All Day

Indoor Play Area, Outdoor Play Area

Co-Ed

English, Hindi, Regional Languages

Play-way Schools

Arts & Crafts, Dance, Drawing & Painting, Field Trips, Games, Music, Sand Play

School Bus, School Van
Related Listings