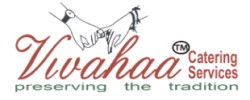 Vivahaa Catering Services
Vivahaa Catering Services, Chennai, is committed to hiring the best talents in catering industry and developing them into passionate professionals. Our team at Vivahaa Catering Services, Chennai, is fired by an unimaginable passion for work and is intensively trained. This multi disciplinary team of professionals allows us to match the challenges, the project requires. Every occasion comes with a different significance. What is common to all of them is the after taste. Food is always a point of discussion, be it a Corporate meeting, Wedding hall or a Social party.
Website
www.vivahaacateringservices.com/
Address
40, Old No. 46, preforcast Apartment, Singarathari Street, -, Triplicane, Chennai, Pincode:600005, Tamil Nadu.
Working hours
12 am to 12 am

12 am to 12 am

12 am to 12 am

12 am to 12 am

12 am to 12 am

12 am to 12 am

12 am to 12 am
Related Listings