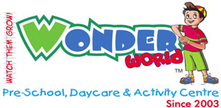 WonderWorld Preschool Daycare
First Step in the world of education - WonderWorld Pre-School offers age appropriate classes and activities that children love and learn from. Each class is grouped to a specific chronological age, as well as level of physical and emotional maturity. A relaxed approach is used, along with a lot of positive reinforcement where teachers provide comfort, care and enhanced learning experience in most enjoyable and exciting environment. From the early age, kids can join the programs and begin building the skills that will help them become creative, confident, active, efficient, responsible and successful now, and in the future!!!.
Website
www.wonderworld.co.in/
Address
150 Chitvan Garden Residency Road B/H Gala Aura Aarohi Crest Near Safal Parisar Road South Bopal, Bopal, Ahmedabad, Pincode:380058, Gujarat.
Features
Arts & Crafts, Chess, Dance, Drawing & Painting, Games, Music, Sports, Storytelling, Tuition

After School, Before School

Before & After School Care, Indoor Play Area, Library, Multi-purpose Hall, Outdoor Play Area

Co-Ed

English, Regional Languages

Play-way Schools

Arts & Crafts, Dance, Drawing & Painting, Games, Music

School Bus, School Van
Working hours
7.30 am to 7.30 pm

7.30 am to 7.30 pm

7.30 am to 7.30 pm

7.30 am to 7.30 pm

7.30 am to 7.30 pm

7.30 am to 7.30 pm

Holiday/closed
Related Listings